SMU instruments capture more-detailed device behavior and can characterize the device in extended ranges, so you can understand your device better, enhance its quality and improve its performance.
Highlights
6½-digit resolution precision source and measure
1 MSamples/s digitized measurement speed
Current: 10nA to 7A DC, 10A Pulse
Voltage: 200mV to 200V
Power: Up to 100W DC to 1000W Pulse
Intuitive UI. Smart and fast.
Measure, see and discover more on the intuitive, multi-touch user interface – from raw readings to histograms to time-based and voltage/current-based waveforms—and get to your answers more quickly.
Highlights
Five-inch touchscreen with carefully-designed color combination and screen layout
Easy navigation and one-level-deep menu and settings
27.5 million data memory with time stamps all viewable on the instrument
Unmatched versatility and return on investment.
SMU instruments bring versatility to a new level, for today's applications and tomorrow's innovation. Configure yours as a precision power supply, 6½-digit DMM, current source, voltage source, picoammeter, electronic load and more.
Learn more. Gain more.
Source Measure Unit Tutorial Learning Center brings together a wealth of information on Keithley SMUs and other products in an all-in-one, convenient location. We provide links to a wide variety of content related to the applications and industries we serve.
Cut Costs and Protect Your Investment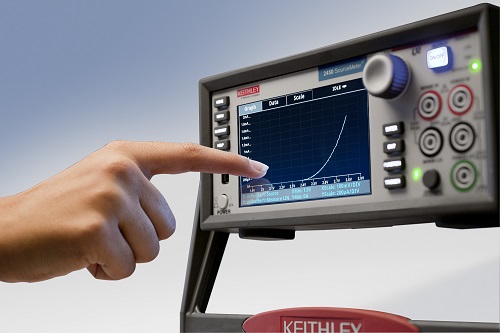 Keithley Care plans provide fast, high-quality services at a fraction of the cost of on-demand service events. You are one click or phone call away from obtaining repair coverage - no quotes, purchase orders, or approval delays.
MOSFET Device Characterization
With its integrated source and measure, voltage or current, precision and accuracy on an intuitive, graphical touchscreen display, a Series 2400 Graphical SMU instrument is ideal for capturing drain family of curves, threshold voltage, gate leakage and transconductance.
Highlights
I-V curve display on a touchscreen interface
Source and sink voltage and current
Best accuracy 0.012% with 6½-digit resolution
High Speed Testing of High Brightness LEDs
Use a SMU instrument's unique pulsing, voltage, or current capabilities to minimize self-heating on HBLEDs and reduce the negative impact on measurement accuracy, as well as to eliminate the worries about damaging the device under test.
Highlights
Minimum programmage voltage and current pulse: 150 µs
Maximum pulse current 10 A
Maximum pulse power 1000 W
VCSEL Testing
The industry's best DC test system for laser diode (LD) production test, SMU instruments offer high speed and high accuracy for both current sourcing and voltage-current monitoring of laser diode modules, photodiode current. SMUs are the most cost-effective LIV instrumentation with high system synchronization and throughput.
Highlights
Programmable current source up to 10 A and 150 µs
Voltage and current measure resolution at 10 nV and 10 fA
TSP-Link® Technology for up to 32 instruments at <1 µs synchronization
Characterizing and Validating Sensor Performance
SMU instruments are the most accurate, reliable, and convenient way to characterize and validate sensors and transducers that can generate and measure ultra-low and low voltage or current signal during sleep and active states of operation. SMUs offer the widest operating range, sensivity, speed and accuracy to minimize false readings and test with confidence.
Highlights
Voltage and current measure resolution at 10 nV and 10 fA
Best voltage and current measure accuracy at 0.012% and 0.02%
Maximum sample rate at 1 MSamples/s